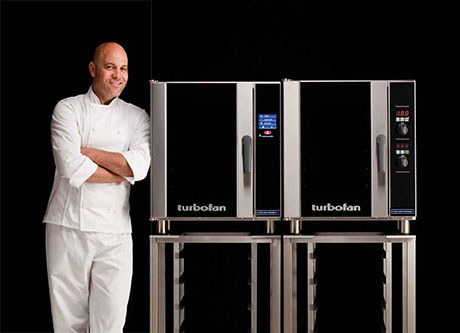 A convection oven with multiple applications
2013/06/28
Highlights
Covering a range of different applications requires both an obsession with the small details and a 'big picture' focus.

The Turbofan range has been evolved to provide the most comprehensive coverage possible. Here, designing for ease of use is far from easy, but very useful. That's why we've put in the time to make certain our products can adapt and thrive in any situation.


BAKERY
The new series of convection ovens offers convenient ease of use. So frozen goods, morning goods, patisseries, croissants, Danish pastries and savories can be baked fresh daily with consistency and quality.

The new range also provides a broader range of increased tray spacing and loading capacities, especially the 20 Series. This is ideally suited to situations where the bakery is responsible for convenience products. All Turbofan ovens are available in both American and Euronorm pan sizes and the Turbofan 32 oven offers companion proofer/ holding cabinets in eight or twelve tray capacity.


In addition to scratch baking these ovens are ideal for bake-off use, such as frozen dough, pre-proofed frozen dough and par bake products.

ROASTING AND COOKING
Turbofan ovens are perfect for food service situations such as roasting beef, chicken, lamb and pork, and cooking a range of meals including meat loaf, pies, potato bakes, braised steak and casseroles.
The fan system of the range has been upgraded, with greater power delivering increased air volume and distribution of heat within the oven cavity.
Even more appealing to chefs and bakers is the user-friendliness of the equipment. They're lined with porcelain enamel, an impervious interior oven surface that's extremely easy to clean. And, with the evolution of our standard features to include digital controls in the E31D, E32D G32D and E33D models and the new touch screen control in the E32T and E33T, these ovens have never been easier to use.
REGENERATION
Turbofan Series ovens are also well suited to the regeneration of bulk and single portion dishes. The specialty and utility ovens can work for everything from independent caterers to large institutions. Ideally suited to the regeneration of vegetables, proteins and starch food products.

Click here to view the entire Turbofan range or view the new E33 models.
Models
---
Download Materials
---

Download brochure


Download specifications manual for the E33D5 model


Download specifications manual for the E33T5 model